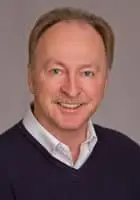 Divorce Talk Radio GuestThis individual was a guest on the Divorce–Lisa Zonder Style radio show, and is not affiliated with Zonder Family Law Group, A Professional Corporation.
Program Guest
Bruce Fredenburg, M.S., LMFT, with Board Certification in Clinical Hypnosis has been a licensed therapist since 1982. He has extensive training in mediation and in the interdisciplinary team model of collaborative practice, and has also trained in the one coach model.
He is trained and experienced in the management of chronic pain, dealing with trauma, chemical dependency and addictions. As one of the one of the founding members of Collaborative Divorce Solutions of Orange County (CDSOC) in 2003, he serves as a Divorce Coach, Child Specialist and Case Manager. Bruce has held the position of Chair of CDSOC's Training and Education Committee, which provides monthly training for the practice group.
Bruce has been a presenter three times at California's annual statewide conference for collaborative professionals and has appeared on the Time Warner Public television series "How to Get a Divorce". Bruce is part of the leadership team of the Collaborative Divorce Education Institute, a non-profit organization, whose mission is to educate the public about Collaborative Divorce, as well as to provide quality training for collaborative divorce professionals in the Southern California area. He also part of their Training Team and trains Attorneys, Mental Health Professionals and Financial Specialists in various aspects of Collaborative Divorce.
Bruce was recruited to create and teach parenting classes for Adoptive and Foster Parents for County of Orange Social Services Agency. An award winning speaker, he has presented training programs for corporations, government agencies, schools, and professional associations since 1989.
He has published articles on Male-Female Communication for "Sharing Ideas," a national magazine dedicated to professional speakers, trainers and meeting planners. In 1996, he was awarded Speaker of the Year by the Professional Speakers Network. Bruce is the author of many Audio Learning and Self-Help Programs, including "Men and Women: How to Understand Each Other," "Take the Pain Out of Change," and "Profound Relaxation."  Bruce's most recent self-help programs developed and released in 2011, are "Sleep Solution" and "Anxiety Solution."