Many divorcing couples feel uneasy about going to court to end their marriage.  Divorce, in general, is a complicated, time-consuming, and potentially expensive undertaking.  Collaborative Divorce and mediation can offer couples resolution without adding more stress than necessary.  In this article, we will explore collaborative divorce vs. mediation to help you determine which process may be right for you.
Both Collaborative Divorce and mediation are out-of-court, non-trial solutions to getting divorced. Negotiations are held at private meetings, rather than court hearings, where the couple works through the issues of the divorce. The ultimate goal is to achieve a fair settlement that fits the needs and goals of each party and that each can abide by without the acrimony of a court fight.
Timeline:  Collaborative Divorce and mediation provide a framework which enables parties to achieve a divorce much faster than going through the court system and waiting for hearing dates.
Privacy:  Negotiations are confidential (with some legal exceptions) and do not become public record.
Level of adversity:  Negotiated agreements, rather than court battles, are achieved by bringing down the adversarial tone of getting divorced.
Control of outcome:  Parties retain more power over their future by coming to an agreement together rather than turning all the decisions over to the court and risking that one dissatisfied party will seek to appeal court decisions.
Cost:  Mediation and Collaborative Divorce are generally less costly than a court trial.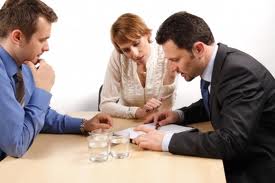 What is Collaborative Divorce?
Collaborative Divorce is a form of consensual or alternative dispute resolution.  It is non-adversarial process and the divorce is kept out of the court system.  Collaborative Divorce utilizes an interdisciplinary team approach and helps clients to achieve creative resolutions to issues regarding custody, support, and property division.
Most full-team collaborative divorces consist of two family law attorneys (one for each spouse), one or more financial professionals (typically a forensic accountant and/or a Certified Divorce Financial Analyst®), and a divorce coach (usually a licensed coach or other mental health professional).  Given each couple's unique situation, other professional resources may be brought in such as real estate appraisers, business valuators, and child specialists – just to name a few.
In traditional Collaborative Divorces, each member of the professional team has undergone Collaborative training and certification and all involved sign a contract agreeing to keep the matter out of court.  If one or both parties decide to go to court (also known as "falling out"), the professionals involved should recuse themselves from further working on the case.
While Collaborative Divorce is typically costlier than mediation, it is often an ideal process for complex, higher-asset divorces where both parties are averse to litigation and are able to work together for a successful resolution.  Additionally, Collaborative Divorce is a holistic process where the entirety of a couples' needs – financial, emotional, familial – are looked at in conjunction with each other.  Other legal processes tend to ignore the mental health and familial issues.
Collaborative Divorce Statistics 
In the International Academy of Collaborative Professionals' 2015 Divorce Experience Study, researchers found that 94% of all collaborative divorce cases settled within the collaborative framework.  In addition, 77% of those surveyed said they were satisfied with the collaborative process itself.  76% were satisfied with the custody/parenting outcome.  Over 80% of respondents were pleased with the level of privacy, the respectfulness, and the ability to express oneself experienced during the case.
While a Collaborative Divorce may cost more than a basic mediation (as mentioned above), the costs of utilizing a Collaborative process can be significantly lower than traditional, litigated court cases.  The 2015 Divorce Experience Study found that the total fees paid to all professionals in the collaborative case were $10,000 or less in 21% of cases, $10,001 -$25,000 in 28% of cases, $25,001 – $50,000 in 24% of cases, $50,001 – $100,000 in 17% of cases, and more than $100,000 – 9% of cases.  Keep in mind that the costs will vary widely based on state and regional fees charged by the various professionals.
According to the latest survey from FindLaw.com, the average price of a divorce (across all processes) in California is $26,300 with children and $17,500 without.  The average length of the process is eight months to one and a half years.  In Los Angeles and Ventura Counties, it is not uncommon to see high-conflict cases lasting closer to five years.  When utilizing a collaborative process, approximately one-quarter of cases settled within six months and 40% settled in seven to twelve months.
What are the benefits of a Collaborative Divorce?
One of the main benefits of Collaborative Divorce is that it is a client-centered, non-adversarial process in which the couple retains better control of the pace and the outcome of their case.  It is also private and confidential; no personal matters will be revealed in an open, public court.  Additionally, meetings are scheduled with the couples' availability in mind.  There is no waiting for court dates.
The team-based nature of the Collaborative process also allows the couple to determine which professionals will best be able to assist them in reaching a settlement.  Collaborative Divorce focuses on equipping both parties to become more educated and informed on the issues of their case – from financial division and planning to parenting.
What is Divorce Mediation?
Like Collaborative Divorce, divorce mediation is a confidential, out-of-court process designed to reach a settlement in your case.  For many couples, a mediated divorce results in reduced cost, time, and emotional impact when compared to litigation.
In order to begin a mediated divorce, the couple must decide on a mediator.  The mediator is a trained, neutral third-party who will not advocate on behalf of either side.  Rather, the mediator's role is to educate the parties generally about the law and process and to assist them in coming to a mutually agreed upon settlement.  The couple retains control over the outcome rather than leaving it to the family law courts to decide.
While many couples choose mediation in order to reduce costs, high-net-worth couples should not rule it out as a divorce option.  Financially-complex divorces can be satisfactorily resolved through mediation, especially when using an enhanced team approach.  In this version of mediation, financial professionals such as forensic accountants and/or business valuators may be included in the negotiations.
Many mediators will also encourage (or possibly require) that each party retain their own counsel to act as their consulting attorney.  Since the mediator cannot advocate for either side or offer legal advice, consulting attorneys should be retained to provide specific legal advice to their clients in the negotiations.  A consulting attorney should also be used to review the Marital Settlement Agreement before it is filed.  While choosing to mediate a divorce does not mean you will not have to hire an attorney, it should mean you will use an attorney less than in a litigated divorce.
What are the benefits of mediation?
Most couples find that the ability to retain control over the outcome of their divorce is one of the main benefits to mediating a divorce.  Privacy, confidentiality, and lower costs (when compared to a traditional, litigated divorce) also rank high when choosing mediation.
The emotional savings is also a major benefit.  Divorce is, by itself, a difficult and stressful process.  Litigation in the courts only enhances the anxiety that comes from restructuring a family.  Rather than engaging in an adversarial process, the couple can work together to create a mutually-beneficial settlement, thereby protecting the family's mental health and well-being.
How do Collaborative Divorce and mediation differ from litigation?
Divorces are litigated when the couple cannot agree upon a settlement – either with regard to specific issues (such as custody or spousal support) or with the case in its entirety.  In these circumstances, it may be necessary to hire an attorneys who will negotiate on the clients' behalf.  If the attorney negotiations reach an impasse, court hearings will be set in order for a judge to make a decision on the issue(s).
While most people bristle at the thought of their divorce being decided in a courtroom, there are times when litigation is necessary and achieving an out-of-court settlement may not be realistic – especially in cases which involve domestic abuse.  There also may be issues in the divorce which the couple is unable to come to an agreement on, even despite lengthy negotiations.  Having a judge can be important to achieving a "level playing field" so that those in power imbalanced relationships have a fighting chance of obtaining a result that isn't coerced.
Litigation and Alternative Dispute Resolution Differences
The major differences between litigation and alternative dispute resolutions (such as collaborative or mediation) are their adversarial/non-adversarial natures and privacy/confidentiality.  A divorce is, simply put, a lawsuit where one party is suing the other to end the marriage, divide property, and decide custody – among other issues.  In litigated divorces, each party – usually through their attorneys – advocates for their side, with a judge as the ultimate decider of unresolved issues.  In Collaborative and mediated divorces, the party reaches an agreement together outside of a judge's purview.
Collaborative Divorce vs. Mediation: Which process is right for you?
Every divorce is different, requiring different methods to ultimately lead all involved to their desired goals after the separation. 
Mediation may be the better choice for you if you can answer "yes" to most of the following questions:
• Do you prefer to limit number of professionals involved in your case?
• Have you already resolved most or all of your issues?
• If children are involved, have you worked out a parenting plan (also known as a custody arrangement)?
• Are you comfortable dealing with the property and financial issues without the assistance of a financial expert? Do you have a full understanding of the tax implications of your decisions?
• Can you negotiate directly with your spouse without a lawyer by your side?
• Do you feel that you don't need help with emotional clouding and stress reactions?
• Is a lawyer necessary only at the end of the divorce to review the written agreement?
• Are there insufficient divorce assets to bear to pay the fees for all professional team members or concerns that fees for a team will become too steep?
Collaborative or cooperative divorce may be preferable if you can answer "yes" to any of these questions:
• Is there a power imbalance in the relationship that leaves you feeling at a disadvantage during negotiations?
• Could you benefit from a divorce coach to help your communication skills or your spouse's?
• Do you feel like you are in a fog emotionally and could benefit from a divorce coach to help reduce clouded thinking and use new skills to negotiate for yourself?
• Would you prefer to have an attorney by your side for advice and guidance during the negotiations?
• Are you open to input from a financial professional on possible property and financial settlements?
• Are your finances and property holdings particularly complex or contain more than the family residence?
• Would expert advice on a parenting plan be beneficial?
• Do you prefer to be supported by a team of experts throughout the process?
• Would you benefit from being able to call on the team to troubleshoot future issues?
Consult with a California Divorce Attorney Who Specializes in Mediation and Collaborative Divorce
Regardless of whether litigation, divorce mediation, or Collaborative is being considered, it is important to consult a knowledgeable divorce attorney to help make a decision that works for you and your divorce case in California.  Finding a family law attorney who has a strong knowledge of mediation and collaborative divorce is critical. If you would like to learn how our office can provide guidance on any California family law issues you are facing in Los Angeles, Ventura, and Santa Barbara counties, contact the Zonder Family Law Group office today at 805-777-7740.  Don't wait to start the next chapter of your life.
Our attorneys are licensed in the State of California. We do not handle any matter outside of California. Testimonials or case results do not guarantee you will get the same or similar result. None of the information, testimonials, case results, or information is a guarantee, warranty, prediction, or assurance regarding the results that may be obtained in your case. Every case is dependent on its own facts.  These materials have been prepared for general informational purposes only and are not legal advice. This information is not intended to create, and receipt of it does not constitute, an attorney-client relationship.