Zonder Collaborative Divorce
Do you prefer to stay out of court?
Do you have property to be divided?
Want input on a parenting plan?
Do you wish to avoid the expense of court mandated hearings and trials?
Do you prefer to keep your dirty laundry private?
Want to keep the matter civil, avoid the pit-bull approach and the stress that goes with it?
Prefer to be supported by a team of experts whom you hire only when you need them?
If any of that sounds like what you want, then collaborative divorce is the ticket. It is based on a pledge to reach an agreement without going to court. All parties consent in writing to be a part of a respectful process that leads to out-of-court resolutions. The goal is to solve problems jointly and prevent a courtroom battle.
Characteristics of Collaborative Divorce
Client centered, non adversarial process
Guided by the attorneys who inform you of the law and by other team members who allow you the freedom to decide how to resolve your case
Parties make the decisions guided by attorneys and specialists
Emphasizes a pledge not to go to court
Educates clients and supports their becoming fully informed
Share control of your case with your attorney and specialists
Team based
Managed time; typically more cost effective than traditional divorce
Private (out of the courtroom)
Real-time resolution (immediate access to specialists & experts), as needed
How Collaborative Divorce Works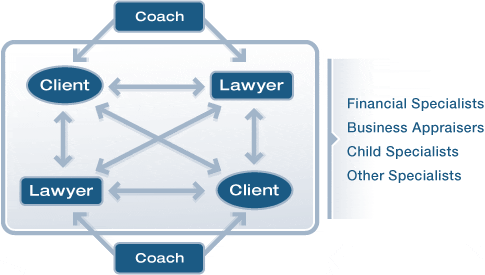 Each party works side-by-side and is supported by his/her attorney in a roundtable approach with all representatives working toward a resolution. Each party also has the options whether to use a Divorce Coach with mental health experience who works toward resolution options. In Collaborative divorce, there are also financial specialists, business appraisers, child specialists, and other experts in stand by for specific needs or issue resolution, as needed instead of on constant retainer.
Call us toll free at 866-632-6459 to schedule a 30 minute consultation1 with Lead Counsel, Lisa R. Zonder. For San Diego clients, call (760) 438-3383.
The Collaborative Divorce Meeting
Appoint a member of the team to take minutes of the meeting.
Educate clients about the process.
Allow the clients to take the initiative and voice their concerns without rehashing the past.
Meetings are generally set to last one to two hours.
Create an agenda of issues to be discussed to keep the discussions focused and efficient.
Consider sitting around a round table. Also, consider optimizing the experience and the comfort level by offering beverage and light food.
Lawyers are encouraged to listen more and talk less.
Advantages of Collaborative Divorce
No Court or other intervention.
Client is represented by counsel through the entire process not just as a consultant once the agreement is done.
The settlement leads to a written agreement that lawyers have been negotiating the entire time. Unlike mediation, the client does not have to take the written agreement to their consulting attorney only to have the deal blow up because the client failed to consider a point during the mediation.
Lawyers who participate in Collaborative Divorce models are motivated to close the deal and fine tune their win-win settlement skills.
A core feature of Collaborative is the idea that parties and their attorneys work as a team. The team may also include neutral experts for any issue that requires expertise.
Each party timely serves their financial disclosures and informally produces documents upon request.
Power imbalances are equalized with the help of the team.
Co-parenting issues can be decided in a manner that promotes caring loving and involved relationships between parent and child. The goal is to eliminate the acrimonious win-lose tactics that are destructive.
Call us at 805-231-5705 or toll free at 866-632-6459 to schedule a consultation with family mediator Collaborative Divorce, Lisa R. Zonder.

1 Consultation granted based on appropriate qualification determined by Lead Counsel.