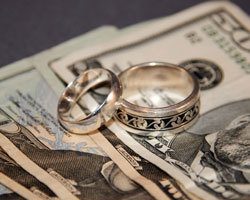 If you and your spouse are filing for a California divorce, you need to take several steps to make sure that the process goes as smoothly as possible.  While this is always a difficult process, some of the stress that results from a divorce can occur when unexpected circumstances arise.  One of the areas in which unpleasant surprises can surface involves your finances.
Therefore, it would likely be wise for you to obtain the input of a certified financial planner to help you obtain an understanding of what needs to be done to minimize the chance that negative financial consequences will arise.  Working with an experienced Ventura County family law firm who can provide you with access to these professionals will allow you to clarify your questions before moving forward.
The Potential Role of a Certified Financial Planner in a California Divorce
If you and your spouse are working towards dividing your marital estate with the help of a family law firm, you will not only need to complete this property division in accordance with California's community property laws, but you'll also need to take certain steps to minimize the chance that certain problems such as tax consequences arise.
Working with a certified financial planner will allow you and your spouse to organize all of your assets and your debts and to strategically categorize and divide them in a way that maximizes the benefits that you and your spouse receives while minimizing the potential for problems in the future.
Every financial situation is unique, and it's likely that you and your spouse have accumulated assets and debts in both their nature and in their amounts that are different than any other marital estate.  In order to obtain the best result from working with a certified financial planner, you'll need to compile a complete list all of your assets and debts held both jointly and separately so that you can all get together and sort out the estate in an efficient manner.
How a Family Law Firm Can Help
Every California divorce involves several steps and different aspects of the process that must be completed.  The most experienced and skilled professionals who help spouses work through this process understand that different types of expertise may be needed in order to move from start to finish as quickly, as clearly and as amicably as possible.  If you have decided that it's time to move on with your life, seek the help of a Ventura County family law firm that has helped many couples complete this difficult process.  Contact Zonder Family Law today to schedule an initial consultation.