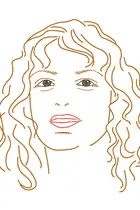 Divorce Talk Radio GuestThis individual was a guest on the Divorce–Lisa Zonder Style radio show, and is not affiliated with Zonder Family Law Group, A Professional Corporation.
A result of the author's own experience finding her way through a particularly traumatizing divorce, this guide includes the usual self-help aspect as well as stories and advice that other women were willing to share with the author to help any woman sail through a turbulent time.
Offering a fresh and uncommon perspective beyond the already long list of books on divorce that focus on getting through a break up's emotional toll or how to deal with children, the book's usefulness covers a comprehensive list of solutions
to challenges that arise from attorneys offering legal and financial advice to saving on cosmetics and holiday gifts. There is a practical list of household hints as well as methods for helping kids get through such an upsetting period and ways to confront health issues that arise as a result of a stressful time.
The author stresses the importance of such a life transition and how this guide can be a safety net providing a myriad of suggestions that help women move from a victim status to regaining their strength of inner peace and wisdom. Every woman
who finds herself in the middle of a break up will find this the ideal all-inclusive companion for moving on.
Wendi Schuller is a published author who has conducted classes on various subjects. She is also a contributor to The Divorce Magazine UK. She draws upon her knowledge as a nurse, Neuro-Linguistic Programmer (NLP), and hypnotherapist, providing a blueprint to guide women through this difficult transition. Schuller hired an attorney for a court divorce, but decided to go the collaborative route instead and has worked with a mediator post-divorce. Her passion is international travel and she devised savvy cost-cutting measures to achieve this dream. Schuller worked in the public schools and observed firsthand the effects of divorce on children. Her aim is to have families experience a smoother divorce, keeping their sanity intact and obtaining the healthiest outcome possible